Because a person's lifetime exposure to sunlight and UV radiation has been associated with cataracts later in life, it's a good idea to consider photochromic lenses for children's eyewear as well as for eyeglasses for adults.
Adding anti-reflective coating to photochromic lenses enhances their performance even further. AR coating allows more light to pass through photochromic lenses for sharper vision in low-light conditions (such as driving at night), and eliminates bothersome reflections of sunlight and other light from the backside of the lenses in bright conditions.
Though photochromic lenses cost more than clear eyeglass lenses, they offer the convenience of reducing the need to carry a pair of prescription sunglasses with you everywhere you go.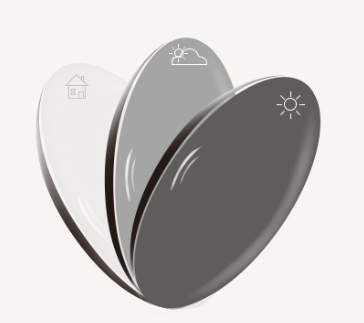 At Hopesun, photochromic lenses are available in nearly all lens materials and designs, including high-index lenses, bifocals and progressive lenses.
If you value quality, performance and innovation you've come to the right place.